Government and industry attends U-Battery technology showcase
22 June 2022
Continuing its work to showcase the future of low carbon energy, U-Battery and Cavendish Nuclear were pleased to welcome senior stakeholders from government, academia, trade bodies and federations and industry to a briefing and showcase of U-Battery's full-scale reactor module mock-up at Cavendish's Whetstone site in Leicestershire, UK on Thursday 9 June.
This follows on from a recent showcase hosted for international media in February 2022 and briefings undertaken with industry stakeholders over the year.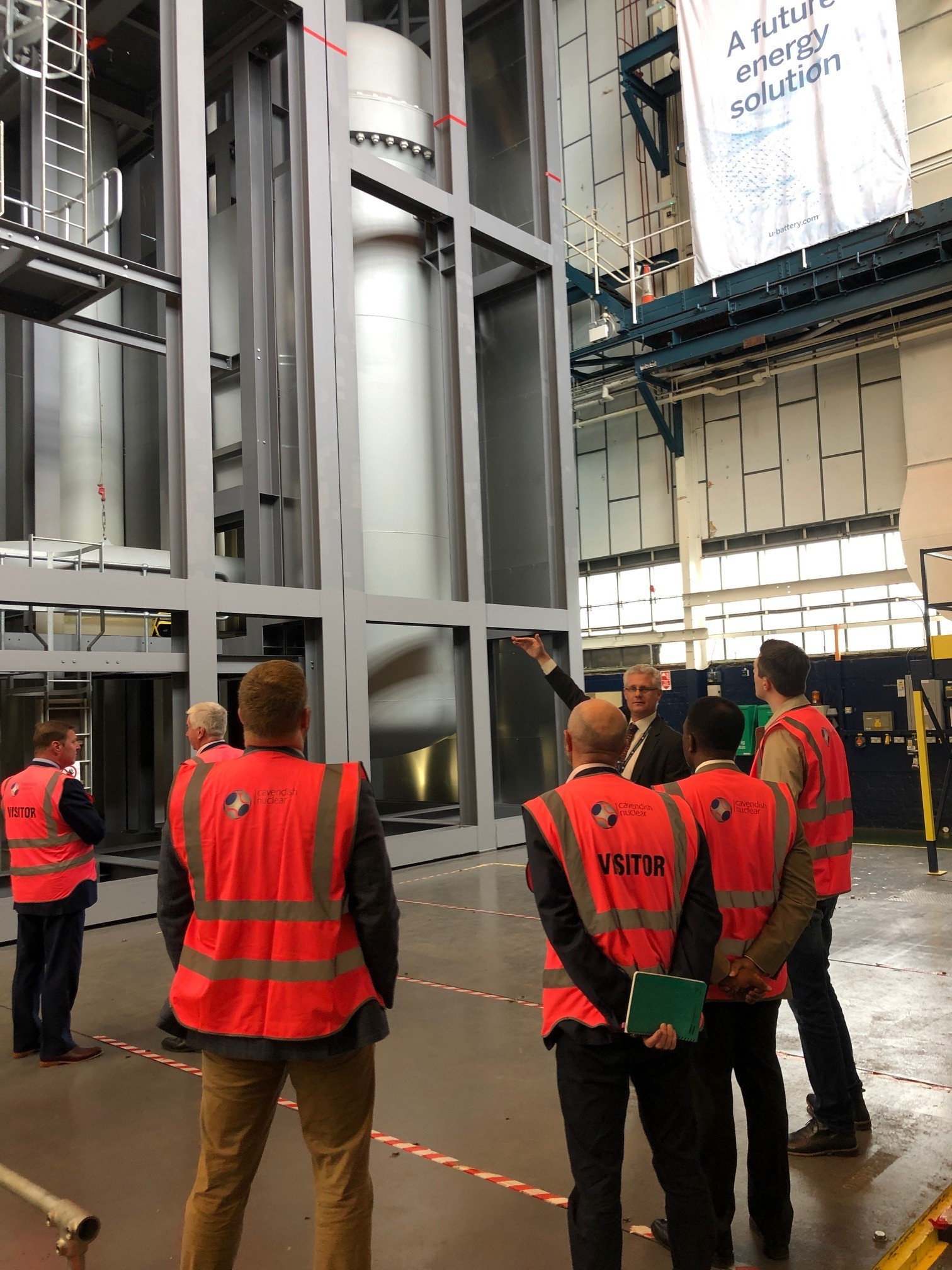 The 1:1 mock-up is a milestone in the development of advanced modular reactor (AMR) technology that will provide a low carbon, cost effective, locally embedded and reliable source of power and heat for energy intensive industries. The mock-up demonstrates how this AMR can be built using modular techniques, making it easy to construct and transport, and it had been previously unveiled to policy and industry stakeholders in late 2021.
Stakeholders participated in a lively and engaged discussion around the technology, and how it fits into the wider nuclear sector in terms of serving future markets with its varied applications. This diversity of applications was of considerable interest; as U-Battery can be deployed directly onto local production sites, it can reduce pressure on the grid, which will in the future come under greater demand due to future electrical demand, stemming from the electrification of several sectors. This reduction of pressure from the grid could have a major positive impact on the wider decarbonisation challenge, while providing stable pricing of heat/power and directly benefiting heavy industry sites and hydrogen production.
The discussion also focused on how the use of 'COTS' (commercial off the shelf) components was a great benefit of U-Battery's approach and design, given its ability to de-risk the technology, which is one of the main barriers to deployment.
After the briefing, attendees then visited Cavendish Nuclear's site at Whetstone, to see the 1:1 scale mock up, and were treated to a tour of the facility, and were able to walk up the mock up to view this tangible demonstration of U-Battery's progress.
Speaking after the event, one attendee commented that 'It was great to see a nuclear design approaching real commercialisation'.
As noted above, this showcase event follows recent briefings with stakeholders from the energy intensive industries, with a focus on how AMRs can support deep decarbonisation of this hard-to-abate sector. Stakeholders have consistently shown strong interest in U-Battery's capability, understanding its applicability to variety of sectors, such as glass and paper production, and how it can support a cost-effective, decarbonising, step-change in the operational and chemical processes used by these industries.
We are delighted with the keen interest from stakeholders from across government, industry and academia, on the applicability of U-Battery to support decarbonisation through several applications, including heavy and extractive industry and, potentially, low-carbon hydrogen production.
About U-Battery
U-Battery is an advanced/small modular reactor, capable of providing a low-carbon, cost-effective, locally embedded and reliable source of power and heat for energy intensive industry and remote locations. It is being developed by Urenco in collaboration with a number of supporting organisations and has received funding from the UK Department of Business, Energy and Industrial Strategy's Energy Innovation Portfolio.